Did you miss this free download?
Grab it HERE now    (1.3Mb)
before you read '10 Years On'
(you'll need to subscribe/re-subscribe to my newsletter via the above link, to access it now)
Cult or Consciousness: A Global Ultimatum 
by Kerrie Redgate
Published in 2008 by Insight Magazine (Australia)
An exposé of what we could expect from this current 16-year paradigm from Pluto's influence in the Earths magnetic field. How are we doing so far?  
Watch your emails for the link or subscribe to my podcast to hear my audio reading of this article with a discussion of how it has panned out, with only 2 years to go!
FoodMood formula PDF download
Grab it HERE now
(5 pages total)   (236.4Kb)
(direct download, no signup required)
Flower Essence Formula

designed by Kerrie Redgate
Made from 4 essence ranges from around the world
(15 individual flower essences)
Special 100ml Sale price A$30 exclusively for you as a subscriber/client during the 7-Day Deal
(until the end of 19th Dec 2018 AEDT +11hrs)
. . . Sorry, you missed the deal! . . .
BUT you can order online using this button:
At the regular prices of
100ml  A$42
  50ml  A$30
And you can still get the regular A$5 discount on each bottle  when ordering multiples of the same formula, regardless of mixing sizes
Examples:
100ml + 50ml of the same formula (or combo) 
= A$62 (save A$10);
or: 3 x 100ml of the same formula (or combo)
= A$111 (save A$15)
Plus postage & packing where applicable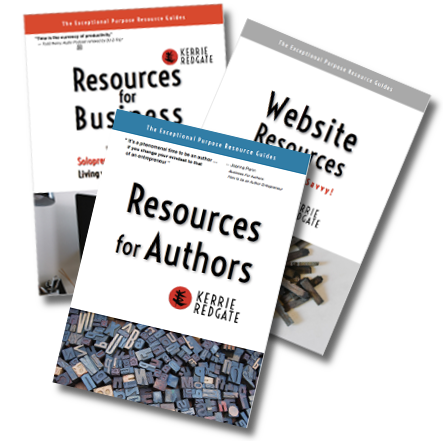 Rolling out in three newsletters:
Resource Guides to make life a little simpler for you
Created by Kerrie Redgate
The first Download 'Resources for Authors' is now located on an Exclusive Downloads page.
If you're not yet on my list, please subscribe to this Resource Blog to gain access to each Resource Guide as they are released.